Dizzy Gillespie is one of the most iconic and influential jazz musicians worldwide. Although he passed away 29 years ago, his music remains legendary as he pioneered countless jazz subgenres and became famous for his iconic ability on the well-known "bent" trumpet.
It is a lasting symbol of his exceptional career, and this trumpet managed to find its way to American History Museum. The story behind this fabled trumpet is quite interesting, and it shows just how creative, loose, and ahead of his time Dizzy Gillespie actually was. As one of the founding fathers of modern jazz music, he became one of the prominent figures in 20th-century American music, and today, we will take a deep dive into the story of his life and the legendary trumpet he was playing.
Who Was Dizzy Gillespie?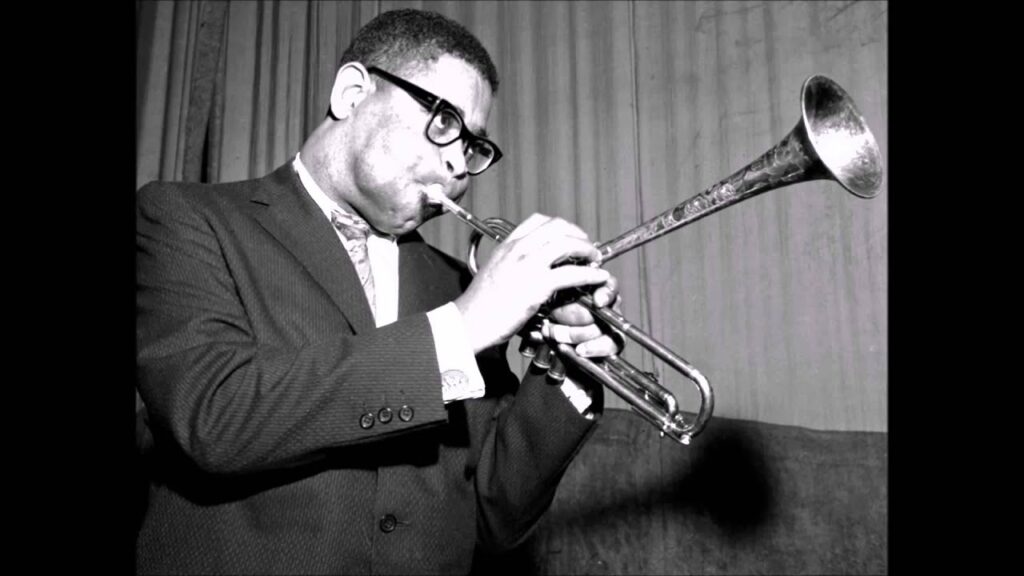 John Birks Gillespie was the youngest of nine children, born in Cheraw, South Carolina, on October 21, 1917. His career started in 1935 when he was seventeen years old and played with the Frank Fairfax Orchestra, where he earned his famous nickname "Dizzy," which was given to him for his unpredictable horseplay and other tricks.
Dizzy's father, James, was also a pianist and the leader of the local band. As a young kid and the son of a musician, Dizzy had access to a wide range of instruments. He was very gifted and possessed the extraordinary natural ability, so he learned to play the piano when he was only four years old.
After Dizzy's father died, his family was thrust into financial hardship. His mother, Lottie, went to work but struggled to support such a large family, so Dizzy chipped in by doing various jobs to help.
Dizzy Gillespie's Continuous Interest in Music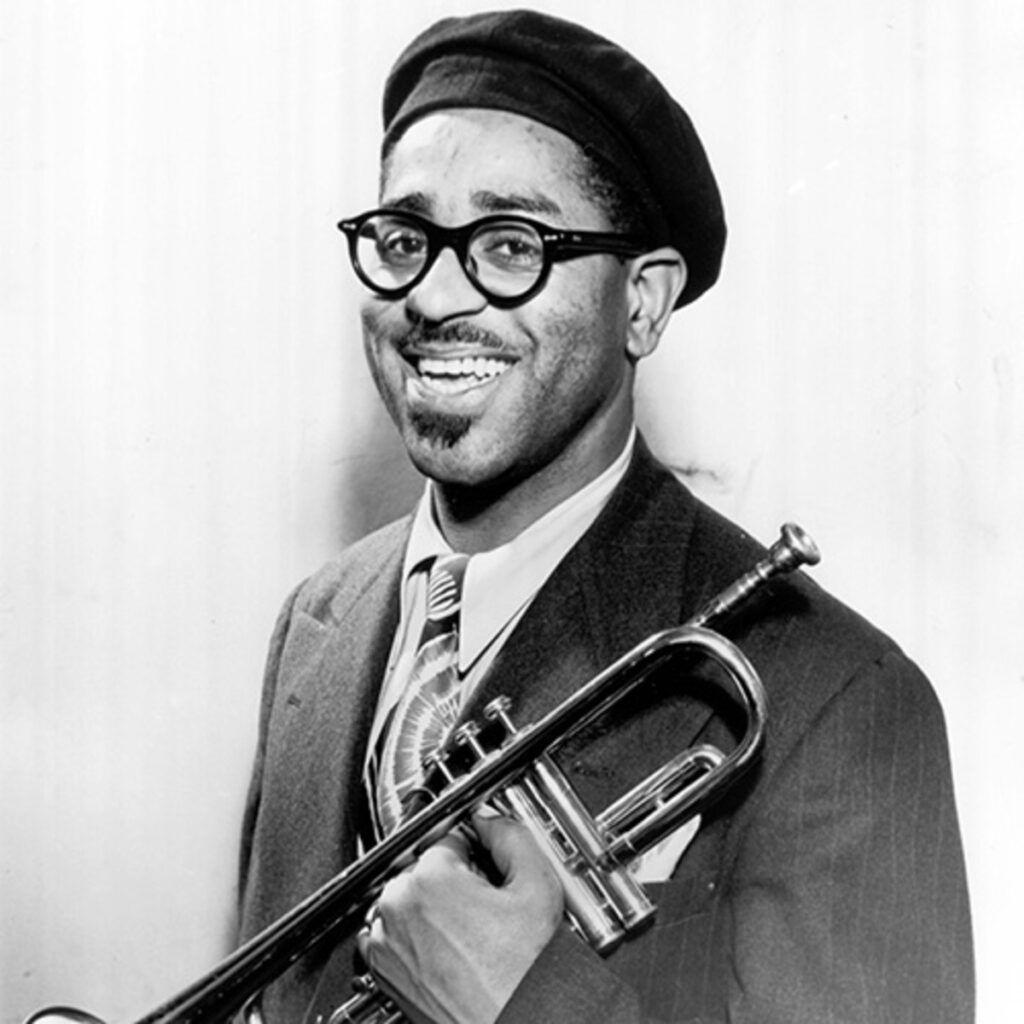 Even though Gillespie and his family went through various problems and hardships, his interest in music never faded. In school, even though his attention span for academics was fairly low, he impressed his music teachers with his determination and progress in playing instruments and spending hours perfecting them.
His first contact with trumpet was when he heard, during one of his numerous practices, the sound of a different instrument playing near his house. His next-door neighbor was playing the trumpet, and the sound and the size of the instrument instantly appealed to young Gillespie.
His neighbor quickly realized that Dizzy had talent, and he loaned it to him. Consequentially, Gillespie taught himself how to play. Although he had undisputed talent, his early trumpet playing lacked some particular direction.
This changed not long after he heard the recording of David Roy Eldridge's music. Eldridge had a specific and sophisticated use of harmony and improvisation solos that very much impressed the young Dizzy, and soon enough, he began to emulate his style with high hopes of becoming a jazz musician one day.
Career and Origin Story of the "Bent" Trumpet
Gillespie remains one of the most influential jazz musicians of all time, and one of the biggest reasons for it was his specific style. As a young man, he was playing in Cab Calloway's Big Band at the Cotton Club in Harlem, where he met a Cuban-American trumpeter and became interested in creating fusions of Afro-Cuban music with some jazz.
Dizzy was likely one of the main reasons why Latin rhythms became such an important part of American jazz music. He also pioneered a very popular genre in jazz music titled bebop. He and Charlie Parker, alongside a number of musicians from Harlem, explored this new approach during a musician's recording strike in the early 1940s.
In 1944 this new style emerged on records and got significant approval from the audience. Some of the most popular pieces from this genre were Groovin' High, Hot House, Salt Peanuts, and the tune that gave this music name in the first place – Bebop.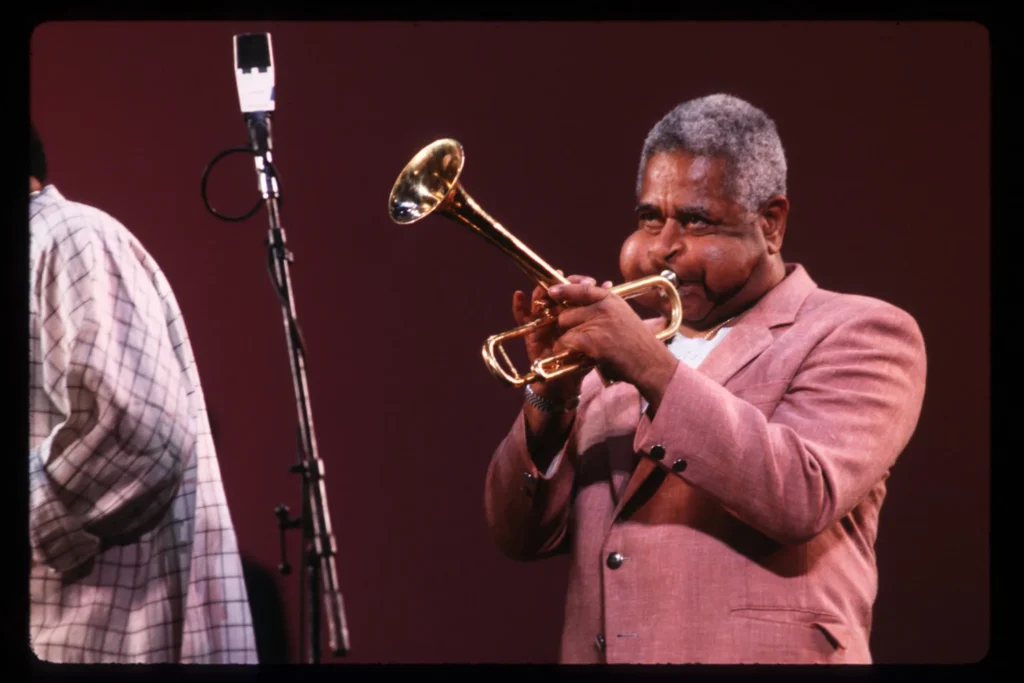 By 1945, Dizzy Gillespie was one of the most beloved jazz musicians in the country. Everyone easily recognized him by his pouched cheeks, which were a result of the muscles he built up over the years of playing the trumpet. Dizzy was a true virtuoso and played faster and higher than any musician on the scene back in the day.
However, it was not until 1953 that he finally added a final piece to his final visual trademark. He was already very popular and an irrepressible entertainer with an exceptional stage personality, but his final visual trademark came by accident.
Somebody fell Dizzy's trumpet by accident as it was standing on a trumpet stand, and as a result of this event, the bell of the trumpet was bent. Gillespie picked up the trumpet, played it, and figured that he actually liked the sound and that it projects better over the heads of the audience in the club.
About "Bent" Trumpet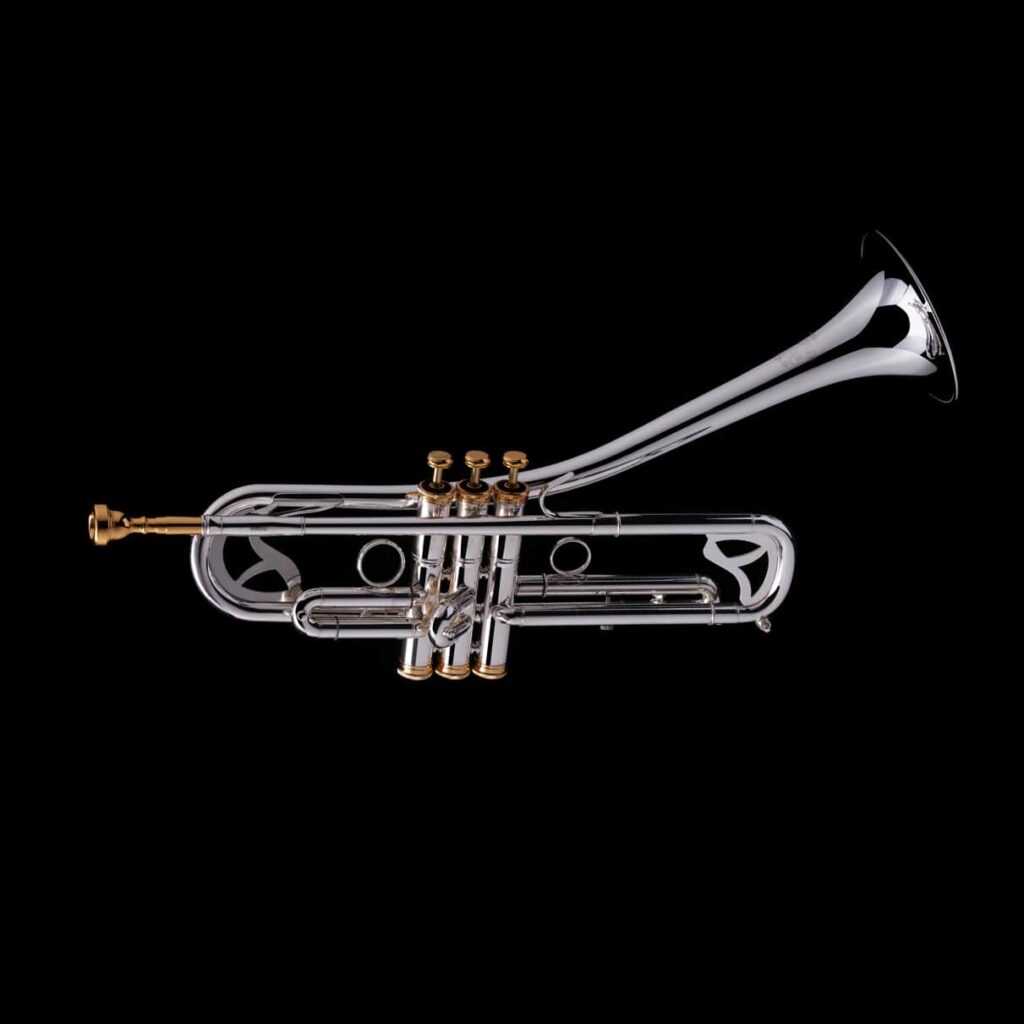 "Bent" trumpet quickly became a trademark trumpet of Dizzy Gillespie. The bell was bent upward at a 45-degree angle instead of pointing right in front of the musician, as is the case with traditional types. Although Dizzy had trumpet straightened out after the incident we mentioned above, he could not forget the tone he was getting from the bent trumpet.
Later on, he sent a request to Martin Committee to make him a "bent" trumpet from a provided sketch board. By June 1954, Gillespie used a professionally manufactured upswept trumpet, and it became a visual trademark of his for the rest of his life.
Upswept trumpets were made by Martin Committee, King Musical Instruments, and Renold Schilke, while Dizzy preferred mouthpieces made by AI Class. After he passed away, Gillespie's Martin Committee trumpet was auctioned at Christie's in New York City back in April 1995.
The trumpet was auctioned alongside other instruments used by other famous musicians, such as Coleman Hawkins, Jimi Hendrix, and Elvis Presley. Moreover, the picture of this trumpet was chosen for the cover poster of this auction program. In the end, the instrument was sold to Manhattan builder Jeffery Brown for $63.000, the earnings benefiting jazz musicians suffering from cancer.
Final Words
Dizzy Gillespie's recorded output was immense, the style was unique, and the mark that he left on American jazz music still lives on. He changed the way countless musicians and listeners perceived this genre and, with his unique style and instrument, became a legend whose music will live on forever.