October 26, 1911 — January 27, 1972
Born as Mahala Jackson and nicknamed "Halie", Jackson grew up in the Black Pearl section of the Carrollton neighborhood of Uptown New Orleans, Louisiana. The three-room dwelling on Pitt Street housed thirteen people and a dog.
This included Little Mahala (named after her aunt, Mahala Clark-Paul whom the family called Aunt Duke), her brother Roosevelt Hunter, whom they called Peter, and her mother Charity Clark, who worked as both a maid and a laundress. Several aunts and cousins lived in the house as well.
Aunt Mahala was given the nickname "Duke" after proving herself the undisputed "boss" of the family. The extended family (the Clarks) consisted of her mother's siblings – Isabell, Mahala, Boston, Porterfield, Hannah, Alice, Rhoda, Bessie, their children, grandchildren and patriarch Rev. Paul Clark, a former slave. Mahalia's father, John A. Jackson, Sr. was a stevedore (dockworker) and a barber who later became a Baptist minister.
He fathered four other children besides Mahalia – Wilmon (older) and then Yvonne, Pearl and Johnny, Jr. (by his marriage shortly after Halie's birth). Her father's sister, Jeanette Jackson-Burnett, and husband, Josie, were vaudeville entertainers.
When she was born Halie suffered from genu varum, or "bowed legs." The doctors wanted to perform surgery by breaking Halie's legs, but one of the resident aunts opposed it. So Halie's mother would rub her legs down with greasy dishwater. The condition never stopped young Halie from performing her dance steps for the white woman her mother and Aunt Bell cleaned house for.
Mahalia was five when her mother, Charity, died, leaving her family to decide who would raise Halie and her brother. Aunt Duke assumed this responsibility, and the children were forced to work from sunup to sundown. Halie loved to sing and church is where she loved to sing the most.
Halie's Aunt Bell told her that one day she would sing in front of royalty, a prediction that would eventually come true. Mahalia Jackson began her singing career at the local Mount Mariah Baptist Church. She was baptized in Mississippi by Mt. Mariah's pastor, the Rev. E. D. Lawrence, then went back to the church to "receive the right hand of fellowship."
In 1927, at the age of sixteen, Jackson moved from the south to Chicago, Illinois, in the midst of the Great Migration. After her first Sunday church service, where she had given an impromptu performance of her favorite song, "Hand Me Down My Silver Trumpet, Gabriel", she was invited to join the Greater Salem Baptist Church Choir. She began touring the city's churches and surrounding areas with the Johnson Gospel Singers, one of the earliest professional gospel groups.
In 1929 Jackson met the composer Thomas A. Dorsey, known as the Father of Gospel Music. He gave her musical advice, and in the mid-1930s they began a fourteen-year association of touring, with Jackson singing Dorsey's songs in church programs and at conventions. His "Take My Hand, Precious Lord" became her signature song.
In 1936 Jackson married Isaac Lanes Grey Hockenhull ("Ike"), a graduate of Fisk University and Tuskegee Institute, who was 10 years her senior. Mahalia refused to sing secular music, a pledge she would keep throughout her professional life. She was frequently offered money to do so and she divorced Isaac in 1941 because of his unrelenting pressure on her to sing secular music and his addiction to gambling on racehorses.
In 1931, Jackson recorded "You Better Run, Run, Run". Not much is known about this recording, and is impossible to find. Biographer Laurraine Goreau cites that it was also around this time she added 'i' to her name, changing it from Mahala to Mahalia, pronounced /m??he?li?/. At age 26, Mahalia's second set of records were recorded on May 21, 1937 under the Decca Coral label, accompanied by Estelle Allen (piano), in order; "God's Gonna Separate The Wheat From The Tares," "My Lord," "Keep Me Everyday," and "God Shall Wipe All Tears Away." Financially, these were not successful, and Decca let her go.
In 1947 she signed up with the Apollo label, and in 1948 recorded the William Herbert Brewster song "Move On Up A Little Higher", a recording so popular that stores could not stock enough copies of it to meet demand, selling an astonishing eight million copies. (The song was later honored with the Grammy Hall of Fame Award in 1998). The success of this record rocketed Jackson to fame in the U.S. and soon after in Europe.
During this time she toured as a concert artist, appearing more frequently in concert halls and less often in churches. As a consequences of this change in her venues, her arrangements expanded from piano and organ to orchestral accompaniments.
Other recordings received wide praise, including: "Let the Power of the Holy Ghost Fall on Me" (1949), which won the French Academy's Grand Prix du Disque; and "Silent Night, Holy Night", which became one of the best-selling singles in the history of Norway. When Jackson sang "Silent Night" on Denmark's national radio, more than twenty thousand requests for copies poured in. Other recordings on the Apollo label included "He Knows My Heart" (1946), "Amazing Grace" (1947), "Tired" (1947), "I Can Put My Trust in Jesus" (1949), "Walk with Me" (1949), "Let the Power of the Holy Ghost Fall on Me" (1949), "Go Tell It on the Mountain" (1950), "The Lord's Prayer" (1950), "How I Got Over" (1951), "His Eye is on the Sparrow" (1951), "I Believe" (1953), "Didn't It Rain" (1953), "Hands of God" (1953), and "Nobody Knows" (1954).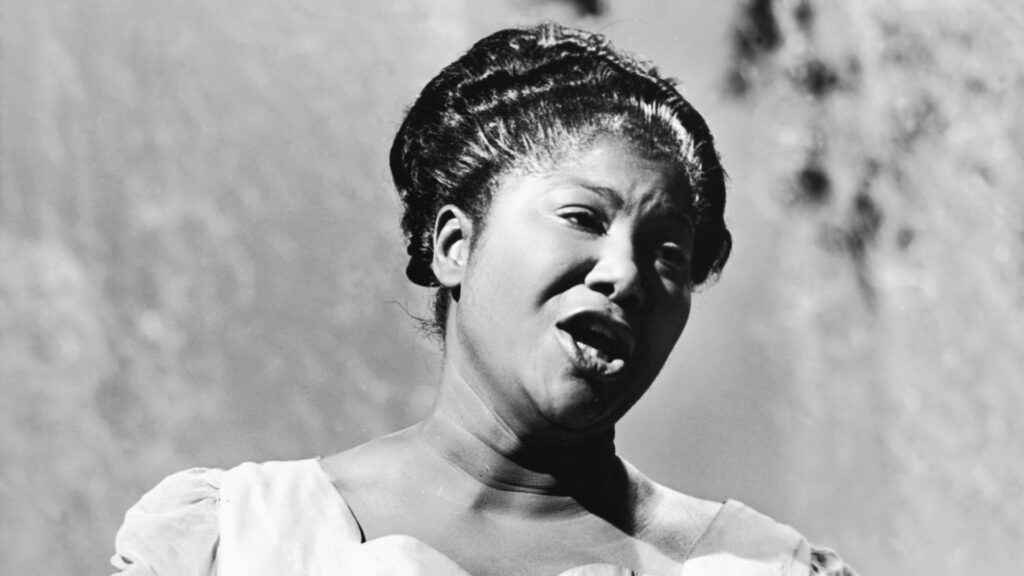 In 1950 she became the first gospel singer to perform at New York's Carnegie Hall when Joe Bostic produced the "Negro Gospel and Religious Music Festival". She started touring Europe in 1952 and was hailed by critics as the "world's greatest gospel singer". In Paris she was called the Angel of Peace, and throughout the continent she sang to capacity audiences. The tour, however, had to be cut short due to exhaustion.
Jackson began a radio series on CBS and signed to Columbia Records in 1954. Down Beat music magazine stated on November 17, 1954: "It is generally agreed that the greatest spiritual singer now alive is Mahalia Jackson." Her debut album for Columbia was The World's Greatest Gospel Singer, recorded in 1954, followed by a Christmas album called Sweet Little Jesus Boy, andBless This House in 1956.
With her mainstream success, Jackson was criticized by some gospel purists who felt she had watered down her sound for popular accessibility. Jackson had many notable accomplishments during this period, including her performance of many songs in the 1958 film, St. Louis Blues, and singing "Trouble of the World" in 1959's Imitation of Life; recording with Percy Faith. When Mahalia Jackson recorded with Percy Faith in the Power and the Glory album, the Orchestra arched their bows to honor her in solemn recognition of her great voice. She was the main attraction in the first gospel music showcase at the Newport Jazz Festival in 1957, which was organized by Joe Bostic and recorded by the VOICE OF AMERICA, and performed again in 1958 (Newport 1958).
She was also present at the opening night of Chicago's Old Town School of Folk Music in December 1957. In 1961 she sang at U.S. President John F. Kennedy's inaugural ball. She recorded her second Christmas album Silent Night (Songs for Christmas) in 1962. By this time, she had also become a familiar face to British television viewers as a result of short films of her performing that were occasionally shown.
At the March on Washington in 1963, where Rev. Dr. Martin Luther King, Jr. made his famous "I Have a Dream" speech, she sang in front of 250,000 people "How I Got Over" and "I've Been 'Buked, and I've Been Scorned". She also sang "Take My Hand, Precious Lord" at his funeral after he was assassinated in 1968. Jackson sang to crowds at the 1964 New York World's Fair and was accompanied by "wonderboy preacher" Al Sharpton. She toured Europe again in 1961 (Recorded Live in Europe 1961), 1963–1964, 1967, 1968 and 1969. In 1970, she performed for Liberian President William Tubman.
Her last album was What The World Needs Now (1969). She ended her career in 1971 with a concert in Germany, and when she returned, made one of her final television appearances on The Flip Wilson Show. Jackson devoted much of her time and energy to helping others.
She established the Mahalia Jackson Scholarship Foundation for young people who wanted to attend college. For her efforts in helping international understanding, she received the Silver Dove Award. Chicago remained her home until the end. She opened a beauty parlor and a florist shop with her earnings, while also investing in real estate ($100,000 a year at her peak).
Mahalia Jackson died in Chicago on January 27, 1972 of heart failure and diabetes complications.